The Examiners and Observers function in ETC HIRE
The fundamental role of the Examiner is to select the best candidate for a job position with the support of the Observers.
There are three different levels where the Examiner and the Observers review the candidate's metrics such as;
Sessions scores, questions, video responses, and support information:
Let's start at the top level,
The "Behavior Fingerprint" consolidates automated metrics and evaluations of each candidate, plus manual scores by the examiner to help decide who are the best candidates for a job position.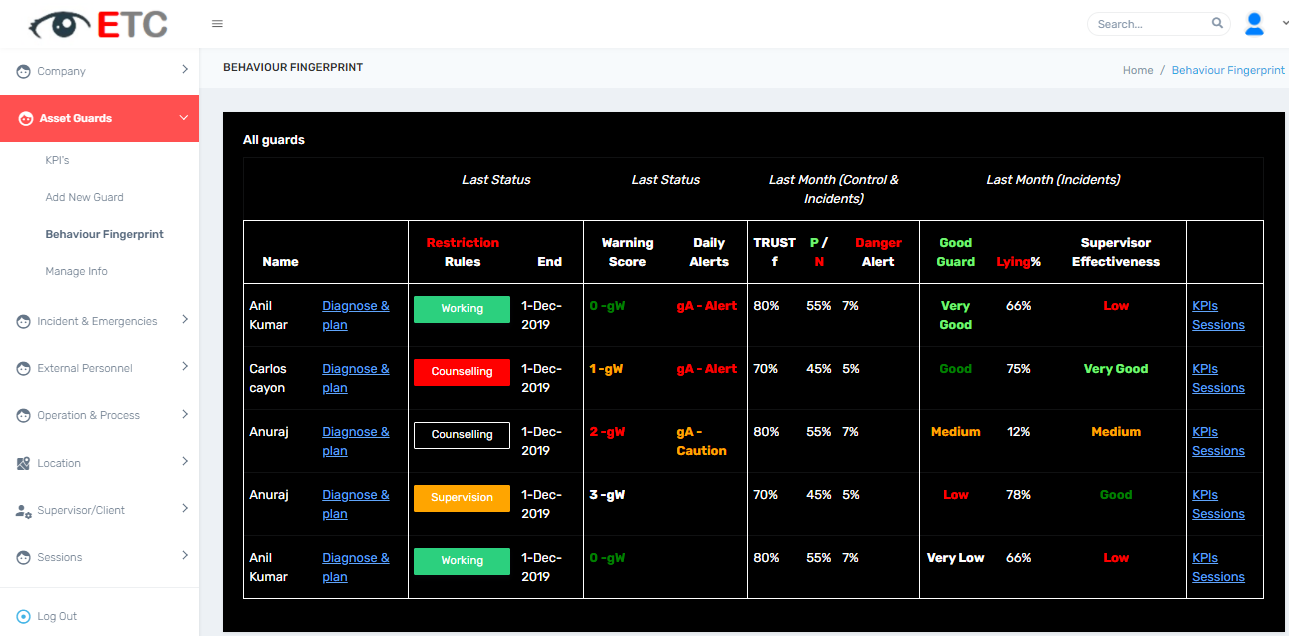 The "Diagnose & Evaluate" module is a working space where the Examiner analyzes the sessions recorded by the Candidate and includes the manual assessment of Climate and Values.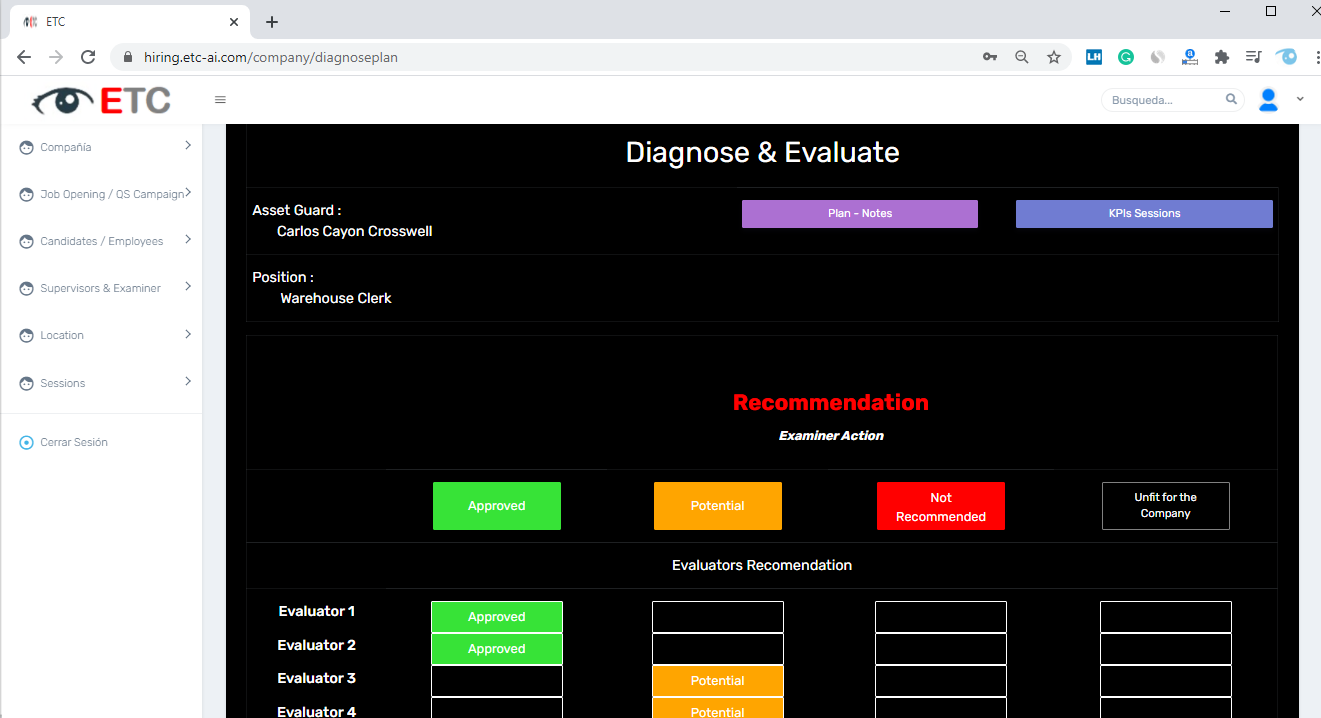 The Key Performance Indicators at the Question and Session levels allow the examiner to drill down and carry out a candidate's detailed assessment in each question.
Now let's review in detail, how the Examiner should execute the function:
In the "Behavior Fingerprint",
the examiner reviews the candidates' progress for a Job Position in terms of the number of sessions completed.
The ETC HIRE main metrics are the "Trust Factor," "Positive versus Negative" emotions, and finally the "Danger Alert", all critical elements in the evaluation process.

Human perception is crucial when the Examiner evaluates the "Good Candidate" Score on the Scroll Bar in 5-positions, from best to worst, in the three Case sections:
Incident, Success, and Resume and background.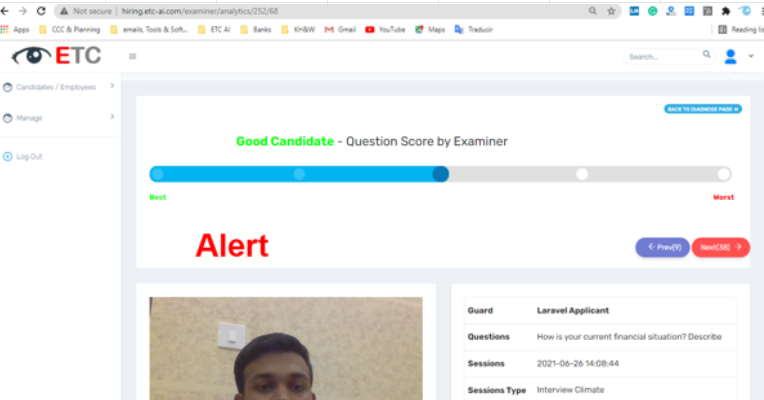 The examiner can evaluate trends and patterns of the Hard questions with the help of ALERTS, triggered by an automated algorithm at the question and session levels.
A red ALERT is a clear indication to the examiner, that further review is required of the question video recording and the related metrics.
We recommend that this assessment be executed at the question level, and the results will be automatically reflected in the "Diagnose & Evaluate" module.
Another key function for the examiner to evaluate is the "Honesty Score", in 10 questions, based on "checkpoints" from the microexpressions of the eyes and face, verbal and body language, and the candidate's circumstances that calculate the probability that the candidate is been honest.
The "Interview – Climate" section does not require evaluation at each of the 30 questions, but rather the Examiner's assessment of the Climate Categories and the Values ​​based on the key metrics.
At the end of the "Diagnose & Evaluate" session, the Examiner can capture the results of Other Tests performed on the candidate to evaluate the exams' overall impact.
ETC HIRE works as a central repository of another test, that improves and supports better hiring decisions.
The examiner evaluates the Candidate Skills that will update the "Behavior Fingerprint" module as support information.
The Examiner and Observers leave their comments in the notes area for each section.
If you have questions about the role of the Examiner, review the HELP – Guidelines link in your language, or please contact us at support@etc-ai.com